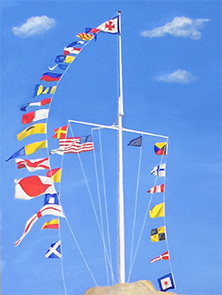 Oil Painting by Ed Larkin
With one of the finest marinas for a private club on Long Island Sound, Riverside Yacht Club provides a wide variety of sailing opportunities for its members and visiting sailors. We host several major events on Long Island Sound including the Stratford Shoal Race, YRALIS Championship Regatta, and the STC/RYC Long Island Sound Championship. Our racing fleet is active in both LIS based events and East Coast races such as Newport Bermuda and the Halifax race.
With a long history in one-design fleets, RYC has developed a strong team racing program and actively campaigns in major championships around the country. It is typical to see weekly practices turn into solid wins at major events.
RYC has a premier junior program that has launched LIS, North American and World Champions. Our womenís program is vibrant and addresses sailing levels from beginner to expert.
We have celebrated our 25th annual summer cruise and have orchestrated multiple RYC sponsored cruises around the world.