Instructor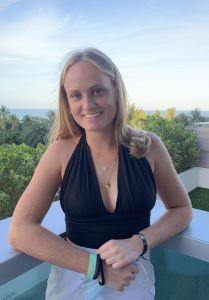 Hometown and Club:
Rye, NY
American Yacht Club
School:
Vanderbilt University
Personal Bio:
Since I was nine years old, I have been part of the American Yacht Club sailing program, where I have sailed Optis, Fevas, Lasers, and C420s. I was a skipper on the Rye High School club sailing team for 3 years. I have sailed in Portugal, Scotland, Belgium, and Argentina throughout my many years in sailing.

In addition to sailing, I love to play field hockey for my high school team, where I was captain and received the All-State award. Next year, I will be a sophomore at the University of Vanderbilt and will continue to study civil engineering.

I am very excited to be part of the Riverside Yacht Club staff again, and I look forward to a really amazing season!
Fun Fact:
My birthday is on Christmas, my favorite milkshake flavor is cookie dough, and I have a golden retriever named Oscar!