Instructor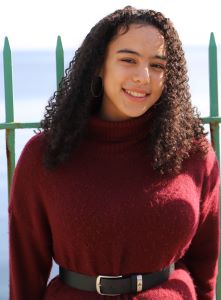 Hometown and Club:
Rye, NY
American Yacht Club
School:
Washington University in St. Louis '25
Personal Bio:
I started sailing and windsurfing at eight years old out of American Yacht Club. Over the years, I sailed Optis, Pixels, c420s, and Lasers and enjoyed serving as a JI for a couple of summers. I was also both a sailing and windsurfing instructor last summer in Martha's Vineyard.

One of my favorite sailing memories was sailing Hobie Cats in a storm with friends in Brittany, France. Not only did we manage to go the whole day without capsizing, but we were also the only ones to finish the day without ripped sails. Plus, it was interesting to learn some sailing terms in French.

I also have great memories of participating in yearly windsurfing regattas in Martha's Vineyard.

I am excited to have a great summer with everyone at Riverside!
Fun Fact:
I love music and have been playing cello since I was three years old, and my favorite vegetables are roasted sweet potato wedges and charred broccoli. I also have a 9-year-old golden doodle named Chuey.